Keynotes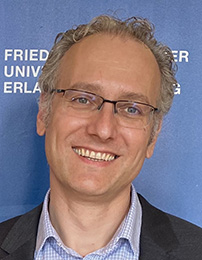 Title: Computational Imaging For Cultural-Heritage Applications
Abstract: Through the increasing availability of high-quality consumer hardware for advanced imaging tasks, digital imaging and scanning are gradually pervading general practice in cultural heritage preservation and archaeology. In most cases, however, imaging and scanning are predominantly means for documentation and archival, and digital processing too often ends with the creation of a digital image or 3D model. At the example of multiple projects, the speaker will demonstrate how careful analysis of the underlying cultural-heritage questions allows for bespoke solutions that – through joint development of imaging procedures, data analysis and visualisations – directly support conservators and humanities researchers in their work. Tim Weyrich will report on his experiences with fresco reconstruction at the Akrotiri Excavation, Santorini, and the reconstruction of fire-damaged parchment with London Metropolitan Archives, as well as other recent and ongoing projects that have not yet been publicly announced.
Bio: Prof. Tim Weyrich holds the chair of Digital Reality at Friedrich-Alexander-Universität Erlangen-Nürnberg, as well as a part-time assignment as Professor of Visual Computing at University College London (UCL), a position he originally held until 2021, after coming to UCL in 2008. In an earlier life, he was a Postdoctoral Teaching Fellow of Princeton University, working in the Princeton Computer Graphics Group, a post he took after having received his PhD from ETH Zurich, Switzerland, in 2006. His research interests include content creation, computational photography, appearance modelling and fabrication, point-based graphics, cultural heritage analysis and digital humanities. He is a member of the executive committee of Eurographics; member of the steering board of the Eurographics Workshop on Graphics and Cultural Heritage and the steering committee EPSRC Doctoral Training Centre of Science and Engineering in Arts, Heritage and Archaeology (SEAHA). He serves as Associate Editor for IEEE Transactions of Visualization and Computer Graphics (TVCG) and is a member of the Association for Historical and Fine Art Photography (AHFAP), special interest group Libraries & Archives Imaging; member of EPSRC College, BCS, ACM SIGGRAPH, Eurographics and of Gesellschaft für Informatik. Past roles include co-founder and Associate, later Deputy Director of the UCL Centre for Digital Humanities (2014–2021); Associate Editor of Computer Graphics Forum and of Elsevier Computer & Graphics.
---
Title: Co-developing applied research with Cultural Heritage organisations
Abstract: Our research is both interdisciplinary and applied, meaning it requires collaboration with practitioners in Cultural Heritage organisations and their audiences to be successful. In this talk, I will explore the processes, practical aspects, workflows and priorities when developing a research project with Cultural Heritage stakeholders. Covering the application of various areas of graphics including digitisation, visual analysis, immersive visualisation, and 3D printing, the talk will identify ongoing challenges and opportunities, both technical and non-technical. The talk will demonstrate that, despite several challenges, these technologies have great potential to support Cultural Heritage organisations to care for collections, while easing the task of involving wider audiences in the interpretation of the artefacts and their contexts. By sharing my experiences of being part of these projects, I hope attendees can get ideas on various ways to initiate and develop partnerships which can provide interesting opportunities for applied research.
Bio: Karina is a Reader at the School of Architecture, Technology and Engineering, University of Brighton and Director for the Research Centre for Secure, Intelligent and Usable Systems which focuses on both theoretical and practical research in computer science challenges related to software systems, leading on the provision of digitisation and visualisation technologies. She chairs the Eurographics Workshops Board, and heads the Eurographics Steering Committee on Graphics and Cultural Heritage which organises yearly workshops in this area. She is an interdisciplinary researcher, with a background in Computer Science, a PhD in knowledge-based engineering systems for collaborative manufacturing and an MA in Histories and Cultures. Her research interests include the development and application of computing technologies for the digitisation of objects and environments; the information management, analysis, search/browse visualisation of visual representations, including 2D and 3D content; as well as their physical reproduction using digital fabrication. She currently leads the scoping of data infrastructure for multidimensional datasets in the Arts and Humanities in the UK. She has produced research outputs in interdisciplinary areas such as computer graphics, information and knowledge management as well as cultural heritage.